Popular tourist destinations
The surrounding area is also very beautiful and worth seeing at any time
of the year. We have prepared some travel tips for you – just convince yourselves...
Krka National Park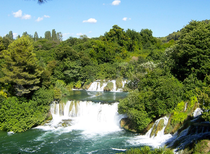 A visit to this natural paradise is an essential highlight of every trip. The famous waterfalls are only one of the attractions, the nature of the park offers you: the innumerable lakes, islands, cascades, hills and hiking trails as well as a rich flora and fauna. Beneath the last waterfall a turquois-blue basin – allready cotaining salty water – invites you to have a bath.

Further information can be found on www.npkrka.hr
Distance from Vodice: approx. 25 km.
Kornati Islands National Park
The Kornati archipelago is the biggest and densest island group of the Croatian Adriatic. They are more than 150 small isles and reefs, most of them uninhabitated. 89 of these islands belong to a National Park since 1980, including also the sea with a total area of 320 km². The Vegetation on the islands is sparse – they consist of chalkstone – and there are neither watercourses nor wells. You can also find many beautiful bathing locations, diving and sailing areas around the smaller islands. From Vodice there are regular boat trips to the Kornati Islands and the National Park.
Further information can be found on www.kornati.hr
Distance from Vodice: approx. 25 km.
Šibenik and Zadar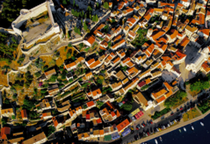 Together with Zadar and Split, the medieval town of Šibenik, with 50.000 inhabitants, is one of the biggest towns in Northern Dalmatia. Cultural interested people are offered a range of museums, galleries and other places of interest like for instance Saint Anne's Fortress, as the highest point of Šibenik.
www.sibenik-tourism.hr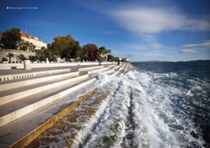 The historic city of Zadar, mostly constructed after roman principles, is a treasury with all its archaeological discoveries and monuments from the Ancient Times, Middle Ages and Renaissance.

Distance from Vodice to Šibenik: approx. 14 km / Zadar: approx. 63 km.
 www.tzzadar.hr
Distance from Vodice to Sibenik approx. 14 km / Zadar approx. 63 km.

Vransko Jezero National Park (Lake Vrana)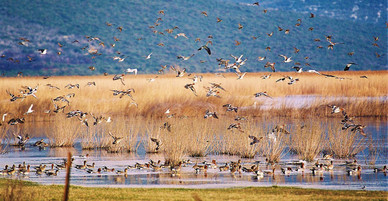 You will discover this natural phenomenon on your way along the Adriatic Highway between the towns of Zadar and Šibenik: 
Lake Vrana
("Vransko Jezero") is the biggest natural lake in Croatia, and at the same
time the only marshland directly by the Croatian sea.
The Park is specifically known for its bird reserve. It is a home for numerous nationally and internationally endangered bird species.
Distance from Vodice: approx. 19 km.

Further information can be found on: www.vransko-jezero.hr
National Park Paklenica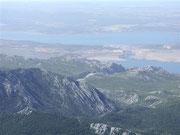 The park comprises the most impressive areas of the southern Velebit, including it's highest mountaintops. The main attractions are two breathtaking ravines Velika and Mala Paklenica, that stretch from dizzying hights all the way down to the sea. The national park's relatively small area comprises a number of unusual karst formations, some caves and a rich and diverse flora and fauna.

Distance from Vodice: approx. 90 km.
Further information can be found on: www.paklenica.hr
Plitvice Lakes National Park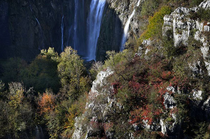 Located in a wooded area, Plitvice Lakes belong to the most beautiful natural phenomenons of the world and served as setting for the famous Karl May films. 16 lakes - connected with 92 waterfalls - run through the picturesque landscape. Plitvice lakes were declared a national park in 1949, and since 1979, they have been on UNESCO's List of World Natural Heritage. The park's attractions also include several caves and the varied flora and fauna. 


Distance from Vodice: approx. 188 km
Further information can be found on: www.np-plitvicka-jezera.hr/hrv